What does the new Behind the Scenes tour include?
The tour takes you to new archaeological excavations at the Western Wall (Also known as
"The Wailing Wall"
), some of which are still in the process of being excavated, so the tour route changes based on which sites are accessible. The tour takes about an hour and twenty minutes, similar to the
Western Wall Tunnels
tour, and two to three groups can tour simultaneously. Your tour will cover 
some
 of the following fascinating new discoveries:
The Ritual-Bath Complex and the Hasmonean Hall
Over the last several years, archaeological excavations have been conducted underneath the usual tour route in the Western Wall Tunnels. These have uncovered magnificent ritual baths from the Second Temple period. One of them even has water today! The site includes the Hasmonean Hall where the members of the Sanhedrin apparently gathered outside the Temple Mount, and the Hall of Eras where remnants were found dating back to the First Temple and up to modern times.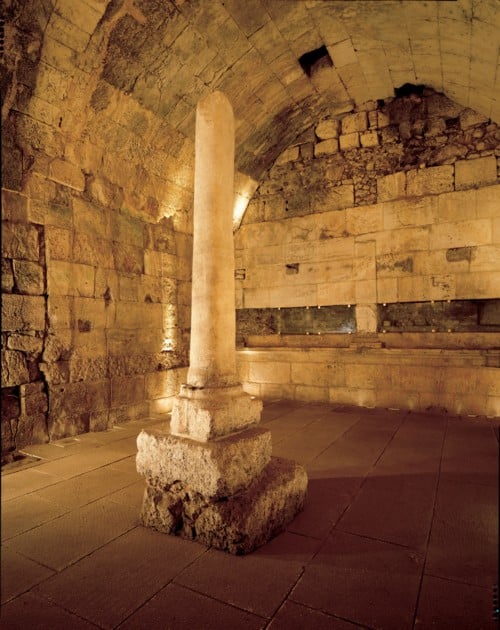 The Great Bridge Excavations
The Great Bridge served those walking between the Upper City (where the Jewish Quarter is today) and the Temple Mount during the Second Temple period. It also carried water coming from Solomon's Pools adjacent to Bethlehem to the Temple Mount. Recently, the bridge's arches were excavated, uncovering a rich array of remnants, unique etchings, and much more.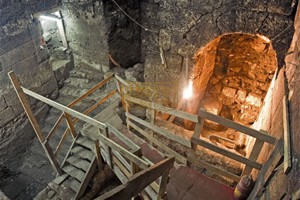 Beit Strauss Excavations
Nathan Strauss, for whom the city of Netanya is named, donated funds for a soup kitchen adjacent to the Western Wall Plaza. Excavations conducted under this historic structure uncovered impressive structures from various periods. You can enter this underground site from the upper section of the Western Wall Plaza.
Section A Excavations
Fascinating remnants that tell the story of Jerusalem throughout the ages have been uncovered under one of the most important synagogues in Jerusalem, Ohel Yitzchak, from the 19th century. The remnants found here span periods from the Second Temple to the days of the British Mandate. They convey the stratification of the city as history unfolded.