"Upsherin – Chalakeh" (haircutting) Ceremony
New at The Western Wall- the Upsherin ceremony: A family celebration marking a three-year-old boy's first haircut

The Western Wall Heritage Foundation continues in its mission to accompany you throughout your most meaningful traditional Jewish life-cycle events. Now, one can also celebrate the Upsherin ceremony (first haircut for a three-year-old boy) at The Western Wall.
This service is provided free of charge, with arrangements made in advance.
What is an "Upsherin"?
There is a widespread tradition throughout many Jewish communities worldwide for parents to wait until their son turns three years old before giving him his first haircut. That first haircut, known as the Upsherin (or Chalakeh), signifies that the child has reached the "age of education"- the age at which he starts to develop his independence.
At this age the child also celebrates learning the alef-bet for the first time, and there are several different traditions associated with this stage of growing up.
The Upsherin is a joyful, celebratory event and many families choose to commemorate this mitzvah at a holy place, with a special ceremony accompanied by numerous blessings. Many people do this in Meron, at the gravesite of the Tanna sage Rabbi Shimon bar Yochai. The past few years it has become popular to celebrate this event at The Western Wall-the place from where "the Divine Presence never departs".
What is included in this ceremony at The Western Wall?
The Western Wall Heritage Foundation invites you, parents of three-year-old boys, to celebrate your child's Upsherin ceremony at The Western Wall. We will be happy to arrange a unique service that celebrates his first haircut, during which a symbolic amount of hair will be cut. The ceremony is replete with blessings and joy for the whole family, heightened by the unique and holy atmosphere of The Western Wall. It promises to be an unforgettable experience for you, your child, and the entire family.
Additional important information:
This service is provided free of charge.

Arrangements, including date of celebration, must be made ahead of time.

One of The Western Wall Heritage Foundation's professional guides will lead the ceremony. He will meet your family at the entrance to The Western Wall and accompany you throughout your event.

The ceremony is about 45 minutes long and is specially geared toward young ages.

For security reasons, scissors may not be brought in to The Western Wall area. They will be provided by The Western Wall Heritage Foundation as part of the ceremony.

At the end of the ceremony the child will receive a life-long memento: a beautiful certificate marking the occasion, containing a built-in window in which his newly cut wisps of hair can be seen.

We recommend continuing the family celebration by touring one of the nearby sites at The Western Wall.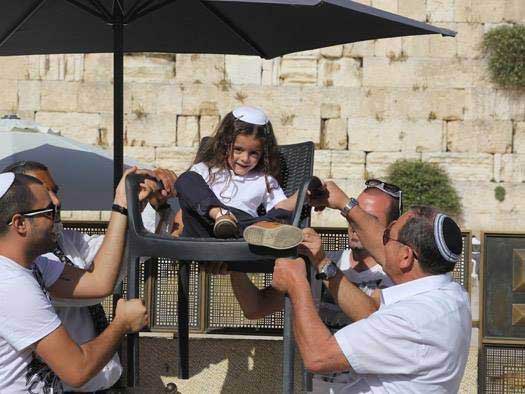 For registration and details about this wonderful program, please contact: [email protected]
02-6271333 / *5958